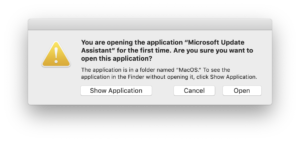 A last minute decision to rename Microsoft AutoUpdate's daemon from "Microsoft AU Daemon.app" to "Microsoft Update Assistant.app" in version 4.15 caused an unexpected dialog to appear for users last week.
MacAdmins have been suppressing this standard macOS dialog for several years by pre-registering Microsoft AutoUpdate in the Launch Services database. The sudden name change caused the dialog to unexpectedly appear during the monthly update cycle of Microsoft Office in September.
Read on for details of what needs to be updated in your script to suppress this dialog for users going forward.