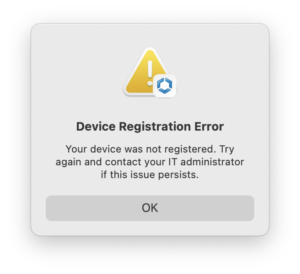 A very annoying bug in the latest release of Workspace ONE Intelligent Hub caused us to uninstall it from our macOS fleet using Munki.
Last week VMware released version 23.04.0 and the users in our testing group were immediately bombarded with a confusing error dialog. These errors would appear repeatedly throughout the day and worst of all, steal focus every time.
We halted the rollout and immediately engaged VMware support who confirmed the issue isn't isolated to our tenant. Multiple customers are experiencing the bug including others in the #workspaceone channel on the MacAdmins Slack.
However despite pulling 24.04 from Munki and making sure automatic updates were disabled in our WS1 console, the install count continued to climb. With no resolution in sight from VMware we decided to remove 24.04 from our fleet completely.
So much for Read-Only Friday! Read on for the details…